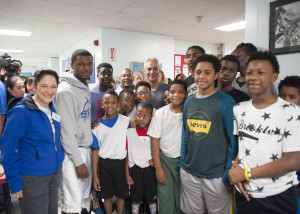 Youth Zone has developed an innovative approach to youth basketball. Youth Zone's Mini Basketball Program targets youth from Kindergarten – 5th grade (self-named the West Haven Dream Team) within the West Haven community, in efforts to prepare them for the latter years of more competitive engagements. Training conditions are lead by Sir Tony Head, a member of Coaches Across America and trainer to many collegiate and semi-pro basketball players. The staff consist of 6th, 7th, and 8th graders, who have previously been trained in the same facet. This revolving door effect creates continuity within the program, and also empowers the youth who previously enrolled in the program, with teaching and coaching skills.
But the Mini Basketball program does not stop at basketball training. Youth Zone spends 45 minutes each training day focusing on education as well. Students are gathered into a classroom setting to learn about such topics as 'The challenges of being a Student/ Athlete', 'Building YOUR brand', and 'Career opportunities around sports'. These topics and more were chosen specifically to enhance the awareness of working opportunities within the sports realm, if becoming a professional athlete does not happen, how to positively promote yourself, and how to balance education and sports. With practice sessions on being interviewed, how to approach being involved in an unforeseen negative situation, and how to stay focused while in the public eye, we are bringing early awareness to the youth who plan to pursue a lifestyle of an athlete.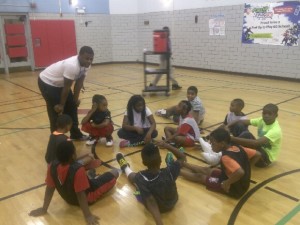 Being an athlete does not stop there either. Being a role model to others is important, so the work you do for your community and others is important as well. Youth Zone's Mini Basketball camp has also committed itself to helping out in the community whenever possible, as the Dream Team is seen here, taking part in the Mayor of Chicago's Green Project. "If the Mayor can help out, then so can we", said Janviere Robinson, 4th grade participant. "If I make it Pro in basketball, I want to help people all the time", he said. Well said.