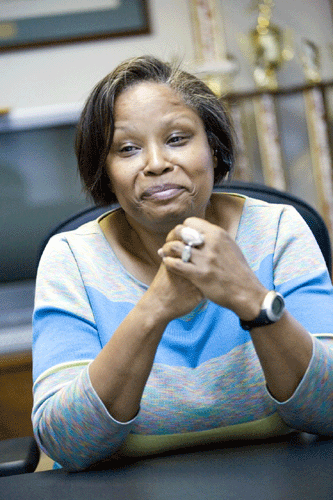 We're very proud of our community garden which took three years to complete and we continue to maintain. We were able to complete this project with several dozen volunteers and by employing West Haven students part-time for summer jobs. We truly appreciate and are grateful for everyone's hard work in turning these abandoned lots into a gem!
Located at the Madison and Hoyne intersection, this garden includes three city lots in some desperate need of some TLC in 2010. Spearheaded by our Youth Director, we were able to provide summer jobs to Crane High School students and their science teacher to remove debris, clear the site and begin the preliminary work. 2011 was the real turning point for the project where we found a dedicated landscaper and students from the community. They leveled the land, trenched out new pathways, and build new flower beds and garden beds. We are fortunate to have some great volunteers who joined us to lay out the new sod and step it up as needed. In 2012 AmeriCorps volunteers were able to install new benches and helped lay out the woodchips to complete our pathways. Students from St. Malachy have used our garden beds to plant vegetables.
Across from our garden is the Mabel Manning Library, named after one of our original community heroes who went on to inspire many more community leaders in West Haven. It's a little known fact but this site use to be a community garden in early 1990's where Mable Manning would plant flowers in old tires.
Wilma Ward was one of our community heroes who was inspired by Mable and others to advocate for West Haven and its residents. Wilma dedicated her life to the betterment of all residents of the West Haven community and it is in her name that we dedicate this garden. Wilma has paid what was learned from Mable forward and continues to be an inspiration to those who love the West Haven community.
Interested in volunteering? Contact Us!
[contact-form][contact-field label='Name' type='name' required='1'/][contact-field label='Email' type='email' required='1'/][contact-field label='Comment' type='textarea' required='1'/][/contact-form]